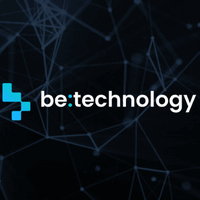 Website Be Technology
Our customers are the soul of everything be:technology is. We work hard to gain an understanding of your needs in order to work better as a collective and maximise our total contribution.
Position: Social Media Executive
Location: London
Salary: £25,000 – £28,000
Looking to work for a disruptive Fintech company in the heart of London?
I am currently working with 2 very passionate and innovative CEO's who are looking for a creative Social Media Executive to join their team given their recent investment round.
These guys have come up with a solution that some of the biggest and most renowned brands globally are talking about! 🌍
Joining an established team, you will work alongside creative and talented individuals that not only you can learn from, but ones that will also welcome new ideas allowing your creativity to shine through.
Your day to day:
🚀Develop social media campaigns and work closely with clients stakeholders
👀Oversee and lead all social media campaigns – from set up to performance tracking
🌱Organic Social Media – content planning and creation
📈Analyse social media performance – use relevant tools and provide regular reports
🎨 Content Creation and copywriting
🤩And more.. but what's the fun in revealing it all
You should be able to bring the following to the table:
Minimum 12 months' experience in a similar role
💸Experience in Paid Social and organic Social Campaigns
💡Data led
💰Driven and eager to learn and develop skills
🤝 Go getter – happy to work closely with stakeholders and strong at building relationships
📢Social Media Platform knowledge – TikTok, Facebook, Instagram, Twitter
What's on offer:
📚Training and clear progression paths
💸Annual salary reviews
🏡Wellbeing first – wfh options, flexi time, Christmas shut down
📆Quarterly and monthly events – nights out, theme parks and days out
🍕Treats – Vouchers, Pizza, Yoga and other random treats
Interview Process:
📹1st Stage – TEAMS Call with your new potential manager – all about your experience and technical skills
🤝2nd Stage – Face to Face – come in and see the above for yourself
🤩3rd Stage – Offer – if successful you will receive feedback after your f2f interview
Sounds interesting? Apply now with your updated CV and let's discuss this in more detail!
Please note: You must be local and based in the UK. Have the right to work in the UK and have minimum 12 months' experience to be considered.
BeTechnology Group Limited is acting as an Employment Agency in relation to this vacancy.